Fast-growing medium sized manufacturing company of medical technology.  High-functioning Executive Leadership Team and Director Team with goals to develop, maximize and sustain leadership effectiveness through the company's next phase of growth and succession of CEO and other C-level executives.
Client's Objectives:

Strengthen Executive Leadership Team effectiveness
Improve cross-functional effectiveness and collaboration between Operations, Manufacturing, R&D, Sales and Marketing
Improve communication effectiveness within the team and through all levels
Develop skill in emotional intelligence competencies to strengthen leadership effectiveness and leadership's behavioral demonstration and modeling of company's core values and principles to preserve a values-driven culture, particularly with increased hiring of new talent to meet growth demands
Build leadership capacity at Director level
Improve agility to respond to significant business environment and market changes
Improve resilience to effectively meet current and upcoming business challenges and sustain performance during periods of increased stress and uncertainty
Program Format: Level 4T – Leadership Team Effectiveness with Emotional Intelligence Competence
CEO, Executive Team, Sr. Leadership Team, Directors; n22
Impact – Overall measurably positive results on multiple individual and team behavioral and performance measures.
Sponsoring CEO and CHRO described observable improvements in leadership team effectiveness, and specific individual behaviors. Written and verbal reports from participants themselves describe individual examples of improvements and state they have observed specific behavioral improvements in fellow team members.Post-program Surveys – Post-program surveys ask a series of questions to obtain qualitative and quantitative impact measurements. Extracts of selected post-program measurements are shown below. Data collected 45 – 60 days post program.
Pulse Survey of Executive Leadership Team – The Executive Leadership Team scored itself on 23 measures that were identified for strengthening pre-program. The team's post-program scores reflect observed improvement on 22 of 23 measures, shown below where 75% or more team members selected "Significant" or "Very Good" improvement.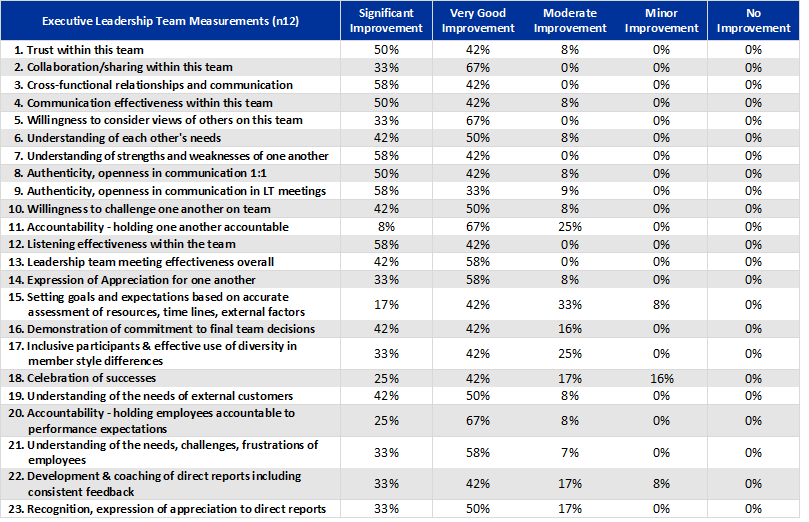 Post-program Qualitative Survey of Executive Leadership Team and Directors – extract
Verbatim responses:
What are some of the most impactful ways in which you believe the Leadership Team has benefitted?
There is more open communication and discussion of issues, and awareness of the differences in the leadership styles of the ELT members.
ELT members are expressing more appreciation for others on the team and for those external to the team.
We have improved cross-functional effectiveness.
We have better understanding of the respective challenges of our team members
We are investing more time and energy into getting to know one another, which leads to more effective collaboration.
Transitioning from a "workgroup" mindset to a "team" mindset.
Better understanding of each other's perspectives, strengths and weaknesses.
A commitment to function as a team with the common goal of helping our company grow.
Collaboration, Listening, Less small group decision-making
Improvement in mutual understanding and trust
Improvement in confidence in working together to achieve the overall company goal
I think we have significantly improved our listening skills and how we respond to each other in a constructive way
Trust within the group has increased and we are working toward more inclusive decision making
I believe our most important improvement has been in leading better cross-functional working relationships. We still have examples of backsliding in this area but I see definite improvement.
Self-awareness has increased within the team
Less finger pointing when results do not match expectations by being more process oriented
Discussions more inclusive of all members
ELT members are more willing to be "vulnerable" and "authentic" in communicating feelings, which builds trust.
Recognizing an obligation to change ourselves and the company.
Improving employee moral because the ELT has looked for help and desires improvements
Better listening and solicitation of others views
Awareness of the importance of appreciation
Awareness of individual strengths and weaknesses
The team has become introspective
I believe our communication is better, though we can still improve
Do you feel that your ideas, thoughts, and perspectives are fully heard and understood by your peers and colleagues on the Leadership Team?
Do you feel there is sufficient engagement in open debate and "push back" within the ELT to challenge assumptions, approaches, goals, decisions, etc.?
Rarely
Not at All

Sometimes
Frequently
Most of the Time

PRE
0
7
5
POST
0
4
8
Do you feel there is full commitment and buy-in from each member of the ELT before forward action is taken on strategic decisions?
Rarely
Not at All

Sometimes
Frequently
Most of the Time

PRE
0
7
5
POST
0
3
9
Personal and Organizational Quality Assessment (POQA-r)
Pre – Post program
The POQA-r is a normed self-report assessment consisting of 85 questions designed to measure key elements of personal and organizational quality, and key factors of organizational climate. Of primary consideration are the employees' self-management competencies (foundational Emotional Intelligence competence), which interact with the organizational climate to influence and affect individual or personal quality. This, in turn, affects Organizational Quality indicators such as employee satisfaction, engagement and work effort, which produce important organizational performance outcomes such as customer satisfaction and profitability.
Pre and Post-program scores of participant responses were compared to a reference group consisting of over 5,900 responses from a variety of Fortune 500 companies and public sector organizations representing a diverse sample according to age, gender and job level.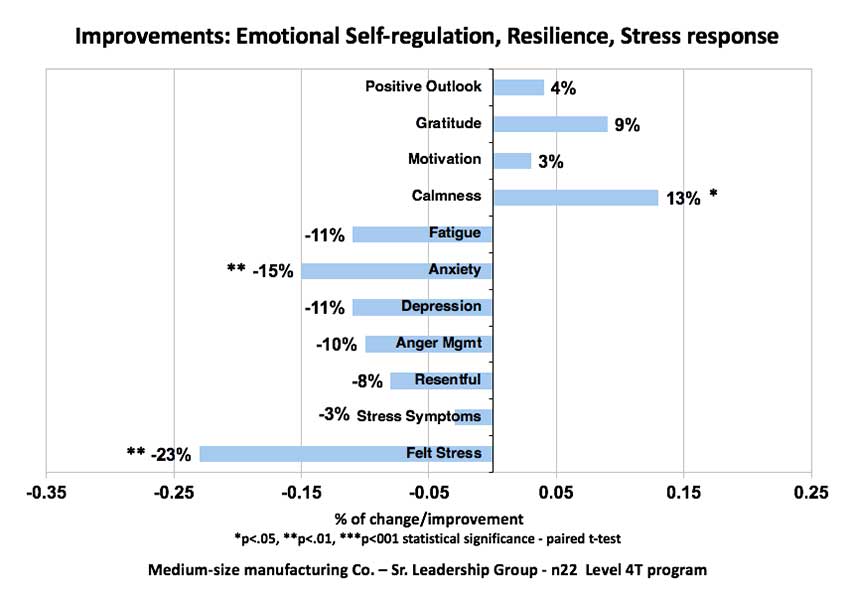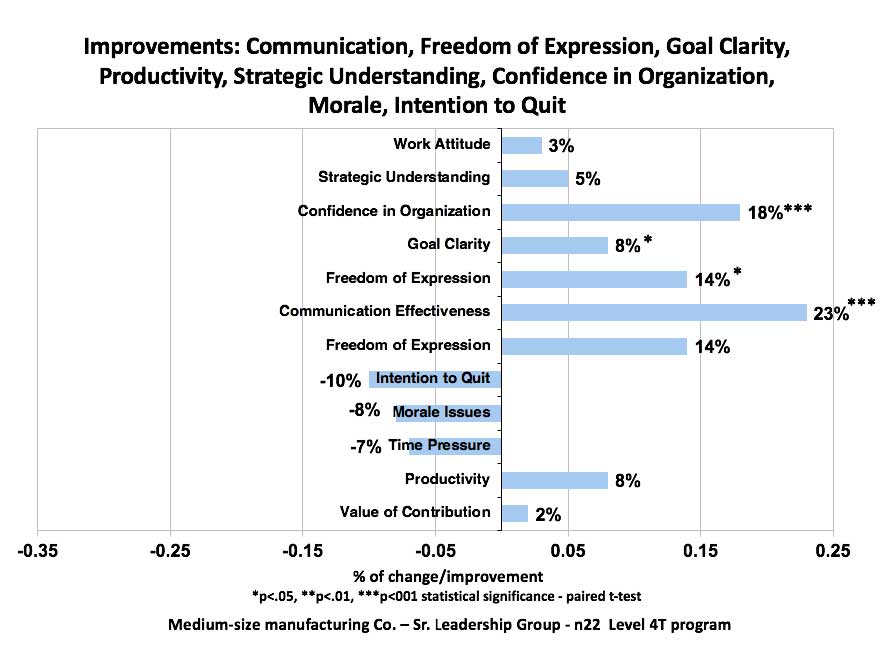 Management Team – next level – subsequent to the Executive Leadership Team and Directors completing the leadership development program, the next level Management team completed the program in a Level 3 format.  They were then surveyed about their perceptions of their direct leaders who had previously completed the program.
Do you feel that your ideas, thoughts, and perspectives are fully heard and understood by your direct leaders (Directors or ELT)?
Do you believe the quality and effectiveness of the communication from the ELT has improved compared to 18 months ago?
Does the communication, coaching and feedback you receive from your direct leader assist you to more clearly understand how you can align your performance and your department with the organization's strategic goals and initiatives?
| | | | | | |
| --- | --- | --- | --- | --- | --- |
| | Consistently | Often/Frequently | Occasionally | Rarely | Never |
| PRE | 25% | 60% | 15% | 0% | 0% |
| POST | 40% | 55% | 5% | 0% | 0% |
Do you feel that what you do is appreciated by your direct leader?
Yes – I always feel appreciated
Yes – most of the time I'm satified with the expression of appreciation I receive

Sometimes/
Occasionally

I rarely feel
appreciated
No – not at all
PRE
25%
70%
5%
0%
0%
POST
30%
65%
5%
0%
0%
All 3 Leadership Groups
The following table presents elements from the post-program POQA-r assessment for the three leadership groups consisting of the Executive Leadership Team, Sr. Leadership Team, Directors and Management Team (n55). Post-program percentage of responses of "Agree" or "Strongly Agree" for each question reflect improvements on the majority of key measures.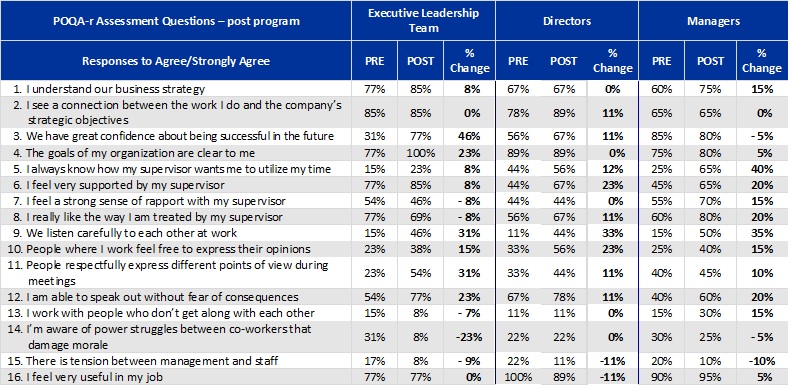 Satisfaction and relevance of application – final participant survey extract
A final participant survey was administered to gather anonymous feedback on participant satisfaction and perceived relevance of application to their job or role. Responses indicate a high degree of satisfaction with the program's relevance and application to both workplace and personal life.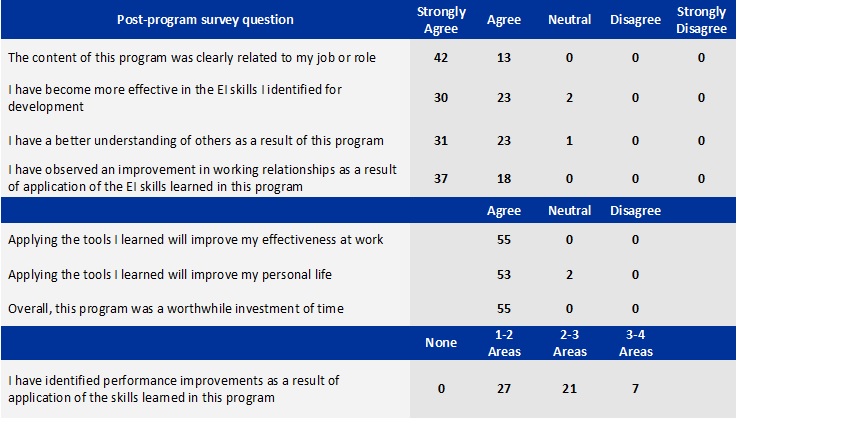 Executive Leadership Team, Sr. Leadership team, Directors, Managers; 45 days post-program; n55