Leadership Development
Your first and foremost job as a leader is to take charge of your own energy and then to help orchestrate the energy of those around you.
-Peter Drucker
Leadership is and observable set of skills and abilities that both experienced and novice leaders can use to turn challenging opportunities into remarkable successes.
-James Kouzes & Barry Posner, "The Leadership Challenge"
Leadership Development
Your first and foremost job as a leader is to take charge of your own energy and then to help orchestrate the energy of those around you.
-Peter Drucker
Leadership is and observable set of skills and abilities that both experienced and novice leaders can use to turn challenging opportunities into remarkable successes.
-James Kouzes & Barry Posner, "The Leadership Challenge"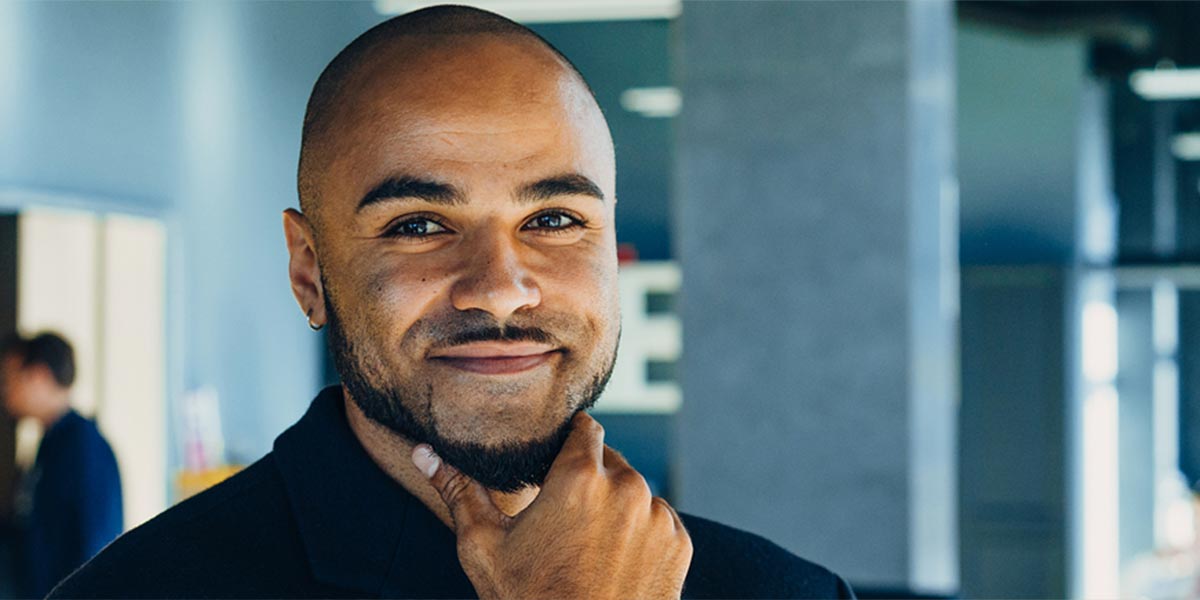 Our methodology for leadership training and coaching, management training and coaching, delivers tangible results for leaders at all levels, from CEOs to front-line managers.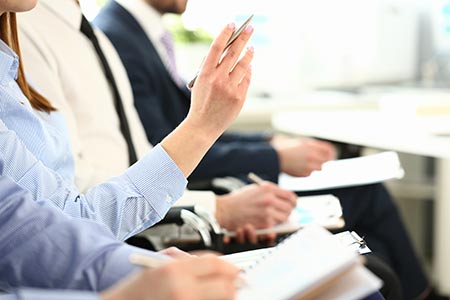 Leadership Development
Coherence in organizational leadership requires a high-functioning leadership team that operates with guiding principles and behavioral norms that enable it, as a body of leaders, to act efficiently and effectively in leading the organization and its constituents in delivery of its mission.
Leaders influence others in one of two directions:
Toward actions that further the organization's goals, or
Away from actions that further the organization's goals
There is no neutral; there is no middle ground.
High performance in a leadership position
requires conscious and consistent engagement in a collection of behaviors that enable the people in the organization to achieve their highest potential in the delivery of their talent. There are differentiating attributes in leaders that consistently result in influencing in a positive, high-value direction. In order to demonstrate and model effective leadership behaviors a leader must have learned these skills and developed competence.
Leadership development is a discipline that continues through the career of any leader and the life of any leadership team, reflecting an on-going commitment to succession planning and organizational growth.
Being promoted to a position or title of Leadership does not make one a leader.
The truth is, the majority of leaders we work with, when asked, reveal candidly that they never made a conscious choice for leadership. They were promoted into the position usually as recognition of their strong performance in a particular role or endeavor, while concurrently enabling the organization to fill an opening in higher level management. In smart companies, development in the form of coaching or training is provided to ensure success in the new role and reduce the risk of stalling forward movement.
In many companies, there is instead an assumption that previous success assures future success and the 'high-potential' manager is congratulated on the new opportunity they've earned. Or, perhaps the manager is provided with some recommendations to strengthen a few attributes which are known to be important for successful performance in the new position – but without a development plan the next evaluation of effectiveness occurs a year later during an annual review.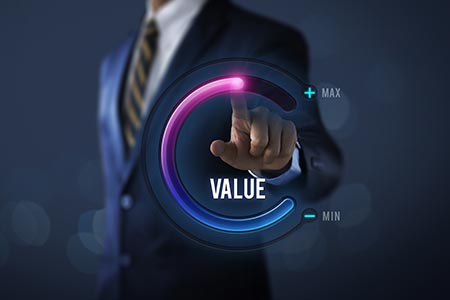 "Arriving at one goal is the starting point to another." – John Dewey
Consider these questions
Are there leaders in your organization that have contributed significant value in technical expertise, brought valuable industry experience and knowledge, are intelligent, dedicated, and conscientious, who've earned advancement to positions of leadership – and are now struggling to be as successful?
Have they received feedback through performance reviews, talent assessments or other means and identified development opportunities related to leadership skills such as people management, communication effectiveness, relationship development . . . . and yet their awareness of the development need has not manifested in the necessary improvements in behaviors and actions?
Is this affecting engagement with next-level employees, perhaps increasing risk of talent loss?
Is cross-functional productivity being negatively affected?
Do employees perceive contradiction between what leaders say and what they do?
Has the thing most hoped would never occur (but a few knew it would), now happened with one or more of your leaders?
Other opportunities for leadership development:
Leading through acquisitions, mergers, restructuring and reorganization
Leaders promoted to higher level positions with broader and more strategic responsibilities
Leaders promoted and now leading former peers
Leaders taking on responsibilities in unfamiliar areas
Understanding and recovering from setbacks and apparent failures
Professionals transitioning from project management to leadership of a direct reporting team
We offer:
Overview presentations and introductory workshops
Level One interactive workshops
Level Two, Three, Four, Five development programs
Contact us for a precise quotation, and schedule a phone call or meeting so we can discuss your specific needs. Completion of the Needs Survey will assist us to identify the options most appropriate for your needs. Below, popular formats and standard features and options are presented. Other formats are available.

Leadership Team Development
In today's business environment, leadership success depends on a spectrum of leadership abilities which enable execution in alignment with the organization's mission and strategy.
That sounds right, but what does it actually look like and how does this really happen? Consider the extent to which leaders and their teams mobilize the organization's energy for competitive advantage and toward goal achievement.
Capabilities which are the hallmark of high-functioning leaders and teams do not magically appear when groups get together, for example, for a strategy meeting. Team mastery of authentic dialogue and skillful communication, building authentic consensus with commitment, and feedback processes for accountability, is essential for investing leadership's talent and energy in generative process vs. wasted circular discussions and incoherent "noise" born of power struggle.
These capabilities are purposefully developed so they become part of the DNA of the team or organization. When leaders and their teams have developed a clear and unambiguous definition and understanding of the actions and behaviors that directly align and mobilize the energy within the organization, breakthroughs occur.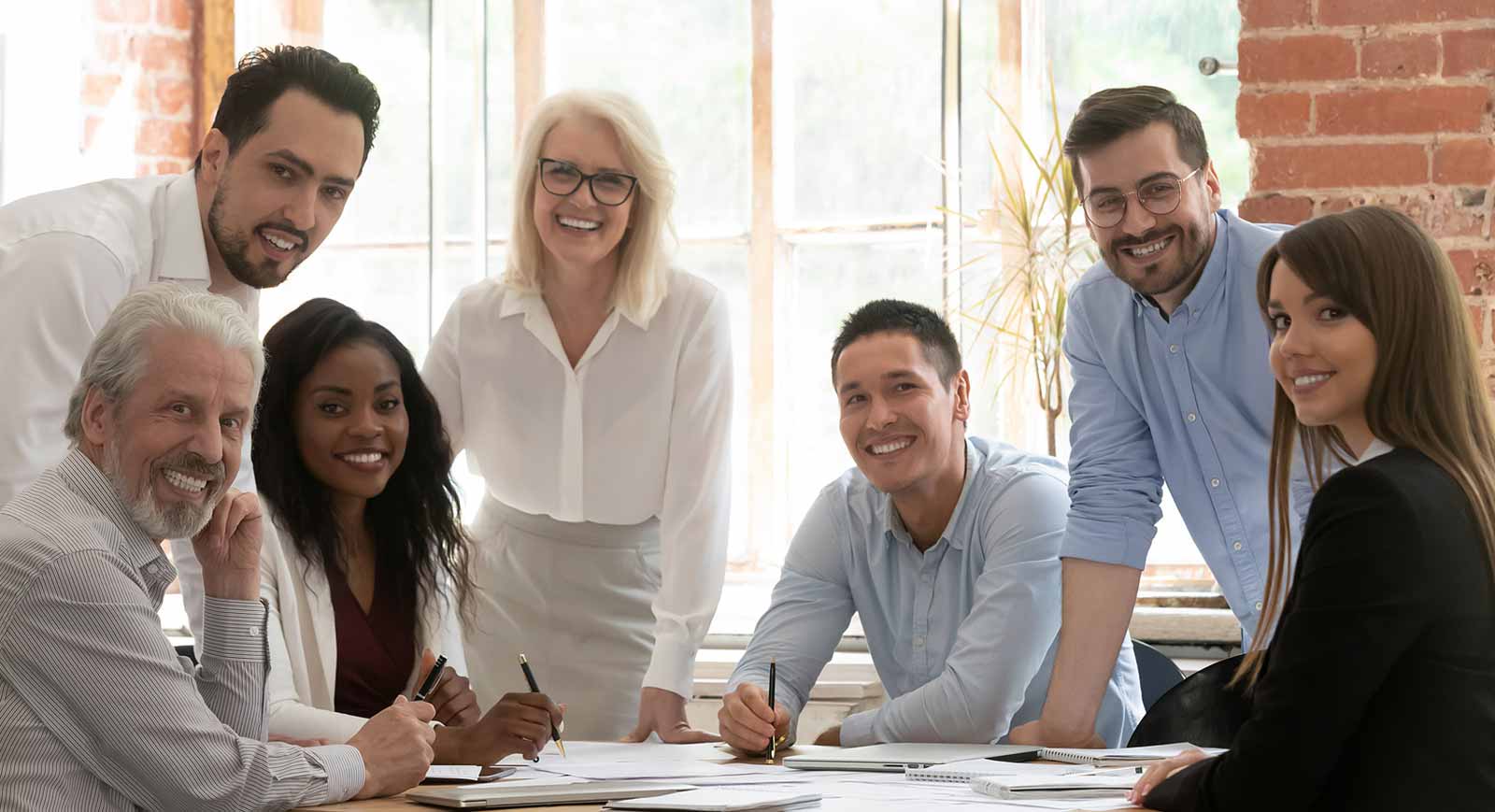 We assist leaders to:
Model > Communicate > Engage > Influence > Lead
Leadership skills development is provided through these services:
While leadership styles vary, research conducted by numerous sources repeatedly point to consistent findings:
The leader's role is central to everything else that happens.
An employee's relationship with their direct manager most significantly contributes to their engagement or departure.
A leader's success depends on high level skill in self-awareness, self-management and relationship management. Emotional intelligence competency is the bedrock of successful leadership.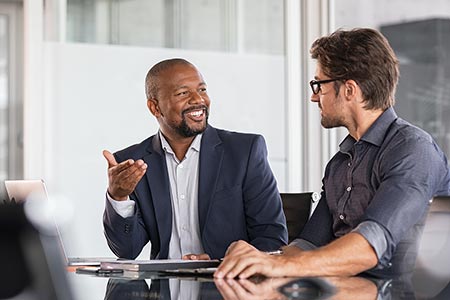 The Leader's role is central to everything else that happens.
Research conducted at Harvard Business School (Heskett, J. et al) under the title "The service-profit chain" has demonstrated a sequence of effects that are associated with growth and profitability in the most successful companies. The service-profit chain, developed from analysis of successful service organizations, establishes relationships between profitability, customer loyalty and employee satisfaction, loyalty and productivity. This sequence is illustrated below.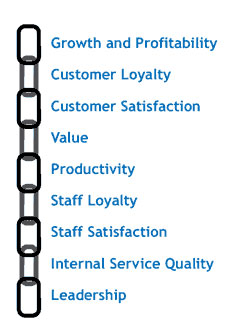 The links in the chain are as follows:
Profit and growth are stimulated primarily by customer loyalty.
Loyalty is a direct result of customer satisfaction.
Satisfaction is largely influenced by the value of services provided to customers.
Value is created by productive employees who are satisfied and loyal.
Employee satisfaction, in turn, results primarily from high-quality internal support services and policies that enable employees to deliver results to customers.
Source: Putting the Service Profit Chain to Work, James L. Heskett, Thomas O. Jones, Gary W. Loveman, W. Earl Sasser, Jr., and Leonard A. Schlesinger, Harvard Business Review, Mar/April 1994
When leadership attends to the internal quality of an organization, the response is increased staff satisfaction and organizational coherence. Staff satisfaction is the response to coherent leadership of the organization. Thus, coherent organizations are aligned around norms that bring out the best in people at work.
Source: Putting the Service Profit Chain to Work, Harvard Business Review, Mar/Apr 1994. Heskett, J., Jones, T. Loveman, G., Sasser, W., Schlesinger, L.
As illustrated above, leadership is what underlies the chain's success. The service-profit chain is defined by a special kind of leadership.
In particular, to what extent the leadership is:
Energetic, creative vs. stately, conservative
Participatory, caring vs. removed, elitist
Listening, coaching and teaching vs. supervising and managing
Motivating by mission vs. motivating by fear
Leading by means of personally demonstrated values vs. institutionalized policies
What the World's Great Managers Do Differently

"People join companies and leave managers." – Marcus Buckingham, leader of The Gallup Organization's 20 year effort to identify the core characteristics of great managers and great workplaces.
Over the course of more than 25 years, Gallup researchers have qualitatively and quantitatively assessed the most salient employee perceptions of management practices. Their researchers have conducted thousands of qualitative focus groups across a wide variety of industries. Gallup researchers have sought to define a core set of statements that measure important perceptions across a wide spectrum of organizations.
The methodology underlying this research has been centered on the study of success. The Gallup Organization has studied productive work groups and productive individuals for more than 25 years. In developing measures of employee perceptions, researchers have focused on the consistently important human resource issues on which managers can develop specific action plans. A set of 13 Core statements evolved from a number of qualitative and quantitative studies of over 80,000 managers in over 400 companies – the largest study of its kind ever undertaken.
Gallup Organization researchers Buckingham and Coffman summarized the 13 Core statements into a set of 12 questions that can be used to measure the strength of a workplace and distinguish strong departments from others, including the core elements needed to attract, focus and retain the most talented and productive employees.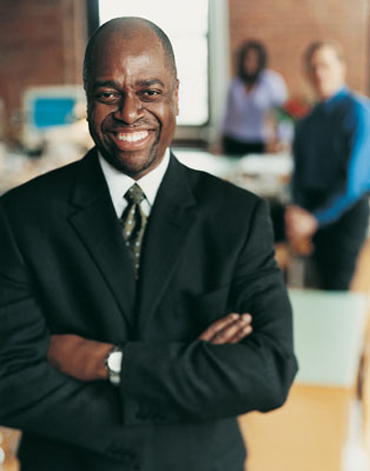 The best managers are those that build a work environment where employees can answer yes to the following 12 statements.
I know what is expected of me at work.
I have the materials and equipment I need to do my work right.
At work, I have the opportunity to do what I do best every day.
In the last 7 days, I have received recognition or praise for doing good work.
My supervisor, or someone at work, seems to care about me as a person.
There is someone at work that encourages my development.
At work, my opinions seem to count.
The mission/purpose of my company makes me feel my job is important.
My fellow employees are committed to doing quality work.
I have a best friend at work.
In the last six months, someone at work has talked to me about my progress.
This last year, I have had opportunities at work to learn and grow.
The Gallup study revealed that those companies that reflected positive responses to the 12 questions were more profitable more often, were more productive as business units, retained more employees annually, and satisfied more customers.
Emotional Intelligence: Research from Hay / McBer
Extensive research in the field of emotional intelligence has revealed: for top performers in all jobs, in every field, competence in emotional intelligence was twice as important as purely cognitive abilities. For success at the highest levels, in leadership positions, emotional competence accounts for virtually the entire advantage.
According to research conducted by Hay/McBer, Daniel Goleman, Ph.D. author of Emotional Intelligence and Working With Emotional Intelligence, Richard Boyatzis, Ph.D. and others:
Emotional Intelligence is found to be twice as important as any other factor in predicting outstanding employee performance, accounting for more than 85% of star performance in top leaders.
Emotional Intelligence has a major impact on organizational performance, doubling and even tripling productivity, and greatly improving bottom line results.
Emotional Intelligence can be developed and enhanced through assessment, behavioral training and coaching.
In a well-known study by Richard Boyatzis at Weatherhead School of Management/Case Western Reserve University, of 2000+ executives, middle managers and supervisors from 12 different organizations, it was found that of the 16 abilities that distinguished stars from average performers, all but 2 were emotional competencies. A larger analysis duplicated these results when the distinctive qualities of star performers were examined across 286 organizations. Two-thirds of the staff was in the US and one-half in 20 other countries.
Of 21 generic competencies, all but 3 were based on emotional intelligence. Of the other 3 purely cognitive competencies, 2 were intellectual: analytic skills and conceptual thinking. The third was technical expertise. The vast majority – more than 80% – of general competencies that distinguished superior from average performers depend on emotional intelligence. Lyle Spencer, Jr. at Hay / McBer
These characteristics are defined in terms of behaviors – those thoughts and actions of outstanding performers. Because competencies are behavioral, they can be developed. When emotional intelligence is developed and applied in a manner that manifests as a measurable outcome, it becomes a competence.
Emotional Intelligence Competencies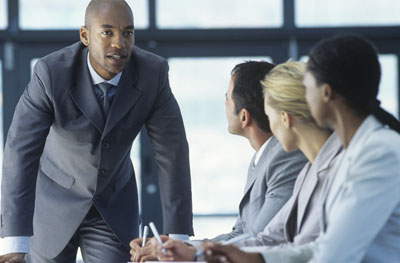 Self-awareness
Self-regulation; self-management of emotions
Self-motivation
Empathy; Understanding emotions, needs and perspectives of others
Relationship management; social skills
"We found that of all the elements affecting bottom-line performance, the importance of the leader's mood and its attendant behaviors are most surprising. That pair set off a chain reaction: The leader's mood and behaviors drive the moods and behaviors of everyone else."
Daniel Goleman, Richard Boyatzis, Annie McKee
"Primal Leadership: The Hidden Driver of Great Performance"
Harvard Business Review, Dec 2001