Team Development
"Not finance. Not strategy. Not technology. It is teamwork that remains the ultimate competitive advantage, both because it is so powerful and so rare."
-Patrick Lencioni, "The Five Dysfunctions of a Team"
Team Development
"Not finance. Not strategy. Not technology. It is teamwork that remains the ultimate competitive advantage, both because it is so powerful and so rare."
-Patrick Lencioni, "The Five Dysfunctions of a Team"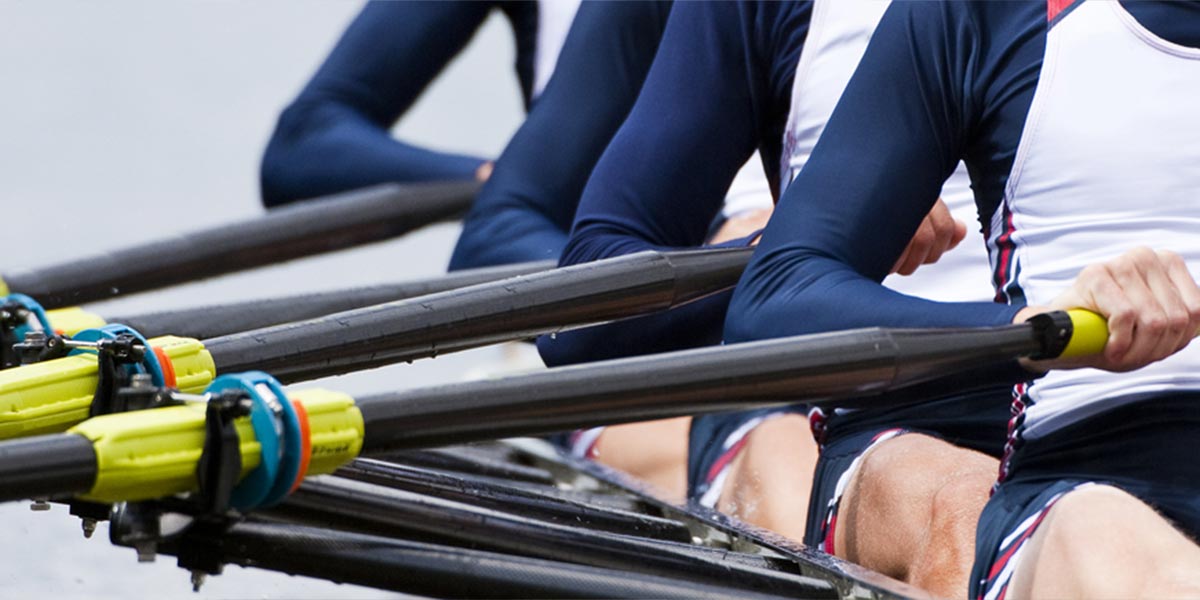 Team Development
AN ENTRAINED TEAM operates like an orchestra. It is highly synchronized. There is harmony. Each member is responsible and accountable for delivering numerous notes at varying times using different instruments. There is commitment, practice, and performance with enthusiasm.
What does it feel like to be on a high-functioning team?
The team is thriving. There is engagement, cooperation, productivity, challenge, creativity, efficiency, resiliency and success.
This team:
communicates coherently, authentically,  and purposefully
manages change and challenge effectively
is focused
doesn't waste time
is low on "drama"
values and leverages diversity in perspectives
meets and exceeds its goals
enjoys coming to work and morale is high
is healthy and resilient
How would you assess your team?
Is there frustration, communication breakdown, resentment, power struggle, silo-view, low-energy, conflict and burnout?
What makes the difference?
High-functioning teams have invested in the actions necessary to ensure the solid qualities and capacities for high-functioning behavior and outcomes. These actions begin with a process that defines and establishes alignment of vision, mission, values, purpose and goals. Then the team demonstrates commitment to the process by engaging in the essential behaviors that define those qualities.
None of us are as smart as all of us.
– Japanese proverb
Patrick Lencioni, management consultant and best-selling author of "The Five Dysfunctions of a Team" identifies the following 5 dysfunctions that inhibit team success:
Absence of trust
Fear of conflict
Lack of commitment
Avoidance of accountability
Inattention to results
Has your team identified some of these issues but has yet to learn the tools and methods to consistently demonstrate high-functioning behaviors?
Contact us to learn how our Team Development programs can elevate your team's functioning.
Team Coherence – Trust, Communication, Feedback, Accountability, Appreciation
We assist teams to learn and develop How To behaviors.
Your team already knows that effective communication and accountability are essential, and builds trust. But it may have never learned how – the precise tools and techniques that enable this to be consistently demonstrated behaviorally.
For example, fear of conflict can inhibit team members from effectively challenging assumptions. Without tools for effectively communicating challenging issues, a team's effectiveness will decline and the team will not maintain its capacity for delivery of its mission. Stagnation will inhibit creativity and innovation. Soon the team's purpose is undermined.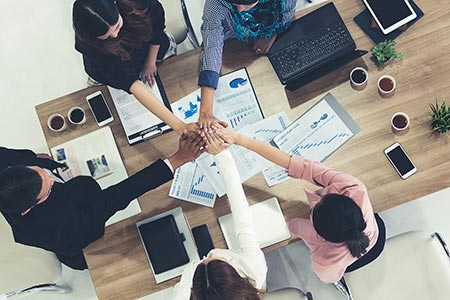 Coherence: Logical connectedness, internal order, or harmony among the components of a system; consistency; integration of diverse elements, relationships, or values. The tendency toward increased order in the informational content of a system or in the information flow between systems. When a system is coherent, virtually no energy is wasted because of the internal synchronization among the parts. Power is maximized – the power to adapt, flex, innovate.
How can two teams start out with the same goals and one remains intact and prosperous while the other ends up fractured, burned out and in conflict?
Perhaps one team experienced the phenomenon of coherence. In a coherent team, each member knows the team purpose, their role, and how to contribute to a highly self-aware and self-managed team. They have individually learned how to self-manage and navigate through moment-to-moment challenges. Daily events which could cause wear-and-tear on the individual members of the team are managed efficiently and elegantly so the team is not derailed. Continuous efficiency and high levels of energy are maintained.
Leadership Team Development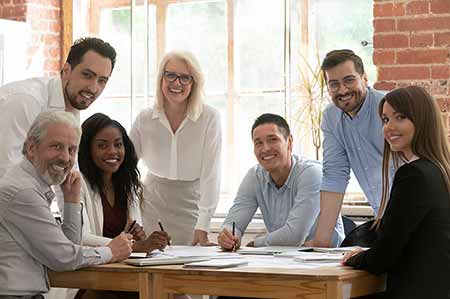 In today's business environment, leadership success depends on a spectrum of leadership abilities which enable execution in alignment with the organization's mission and strategy. That sounds right, but what does it actually look like and how does this really happen?
Consider the extent to which leaders and their teams mobilize the organization's energy for competitive advantage and toward goal achievement. Capabilities which are the hallmark of high-functioning leaders and teams do not magically appear when groups get together, for example, for a strategy meeting. Team mastery of authentic dialogue and skillful communication, building authentic consensus with commitment, and feedback processes for accountability, is essential for investing leadership's talent and energy in generative process vs. wasted circular discussions and incoherent "noise" born of power struggle. These capabilities are purposefully developed so they become part of the DNA of the team or organization. When leaders and their teams have developed a clear and unambiguous definition and understanding of the actions and behaviors that directly align and mobilize the energy within the organization, breakthroughs occur.
Team development – focused on a holistic approach to the 'how to'
Our programs focus on team development processes which are much different than traditional "team building" events that generate enthusiasm and heighten awareness, but usually leave the team without the tools required for integration for sustained improvement.
Interactive workshop sessions and team coaching sessions focus on learning tools and techniques that are directly applied to real team goals and challenges. Experiential and action-learning activities enable integration of the learning for faster transfer to behavior modification.
Individualized coaching sessions – Because all team members are individuals with their own strengths and challenges, we provide individual coaching to maximize the application of learning to their own, individual performance goals. Coaching by phone and in-person accompanies the workshop sessions to reinforce skill development that is specific to the behavioral goals of each individual.
Team Coherence programs teach teams to:
Establish deeper levels of cooperation, efficiency and productivity.
Create clarity of team member roles, responsibilities and associated challenges
Define accountability
Build team flexibility and resilience by releasing it from within each person.
Learn to quickly change negative, draining reactions into proactive, creative ones.
Improve communication using tools for more effective listening and speaking, especially in difficult situations.
Communicate more authentically, free from the distractions that block authenticity.
Practice the behaviors of trust and respect. Identify why and how this breaks down how to prevent and eliminate those events.
Increase effectiveness, cooperation and trust by learning how to understand others' points-of-view — even when one disagrees.
Build consensus
Effectively give and receive feedback
Learn an efficient way to handle "justified" anger & frustration. Stop the accumulation of stress during meetings and in any challenging interaction.
Learn tools for expanding creativity and problem-solving.
Decrease fatigue and burnout; Improve energy and vitality.
Understand how one's perceptions can set off a physiological chain reaction of stress and frustration, which limits the ability to think clearly and interact accurately with others.
Learn to interrupt and transform theses negative reactions for more productive responses.
Sustain an appreciative culture and high-level engagement among the members of your team.
Think about the last time you helped your team decide something meaningful
❐ Did everyone understand what specifically was being decided before beginning the decision-making process?
❐ Were underlying assumptions identified and verified?
❐ Was there good discussion beforehand, or was it a simple vote?
❐ Did everyone have a chance to talk, including those who had potentially differing points of view?
❐ Did everyone feel heard?
❐ Did you talk about the obvious issues as well as those that are sometimes "un-discussable" in your group?
❐ Were the perspectives of all stakeholders identified and discussed?
❐ Did you look at more than one possible way to solve the problem or move ahead with an opportunity?
❐ Did everyone walk away confident that all concerns and options had been expressed, understood and heard?
❐ Did everyone feel confident in full team agreement and commitment to the decision?
❐ Was there a sense of confidence, and/or team appreciation or even celebration when you finally made the decision?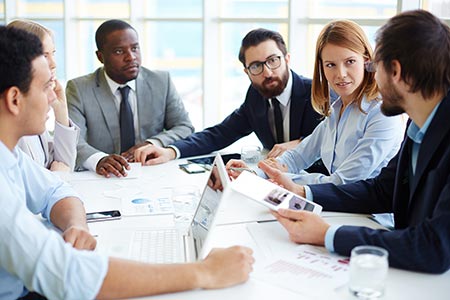 Team Re-Genesis
This process assists teams to identify, define and refine the following:
Team Vision – a clear and compelling statement of the future the team aims to create; clarifies direction.
Team Mission – a differentiating statement of the How of the team's vision, incorporating its fundamental reason for existing.
Team Values – the ideals and standards the team aspires to uphold and which remain constant, regardless of changes in goals or structure.
Team Purpose – the reason a team exists – the Why. It encompasses the goals of the team and how they will be accomplished.
Team Goals – specific objectives to be achieved in order to fulfill the team's purpose.
Team Norms – a set of standards for behavior used to guide interactions as team members and with employees external to the team.
Role Clarity – identification and definition of the role of each member of the team and agreements about communication and collaboration.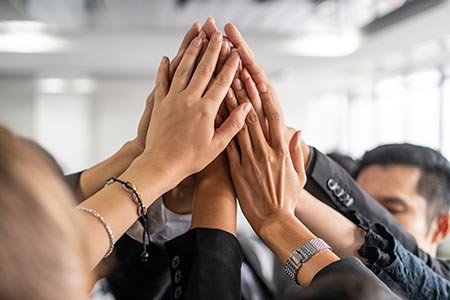 Team Resilience
Resilience– an ability to consistently recover and "bounce back" from setbacks; ability to adjust well to misfortune or change
Change is a constant today, but have we learned how to maximize our individual, team and organizational effectiveness in an environment of change? More than ever, the ability to remain balanced, clear-headed and focused is a critical skill for moving through change and maintaining productivity. Whether we are conscious of it or not, the emotions of frustration, anxiety, uncertainty, fear, anger and worry literally create a desynchronization in brain function, negatively affecting team member interactions.
The behaviors most critical for sustaining teamwork – can be compromised in a heartbeat.
Research in the fields of Neuroscience and Neurocardiology over the past few decades has revealed that when a person is experiencing stressful emotions such as fear, frustration or anxiety, all neural action (learning, memory, cognition and problem-solving) is adversely affected. Stress creates "cortical inhibition" – impeding our cognitive and creative faculties, which causes the brain to be less efficient in making choices.
Is your team experiencing any of the following:
Depleted stamina and enthusiasm? Increased fatigue and burnout?
Emotional reactivity and skewed perceptions?
Ambiguity and apprehension evolving into speculation and rumor?
Increased physical stress symptoms of sleeplessness, muscle tension, headaches, indigestion, hypertension, and depression?
Quality breakdowns in a domino effect: loss of focus, lowered productivity, higher inefficiency, low morale, higher turnover and absenteeism, poor customer service, increased inefficiencies/costs?
Team Emotional Intelligence
Team emotional intelligence can be defined as the ability of a group to generate a shared set of norms that manage the emotional process in a way that builds trust, group identity, and group efficacy. These collective beliefs facilitate the development of group member cooperation and collaboration. (Vanessa Drukat and Steven Wolff) Click here to learn more about emotional intelligence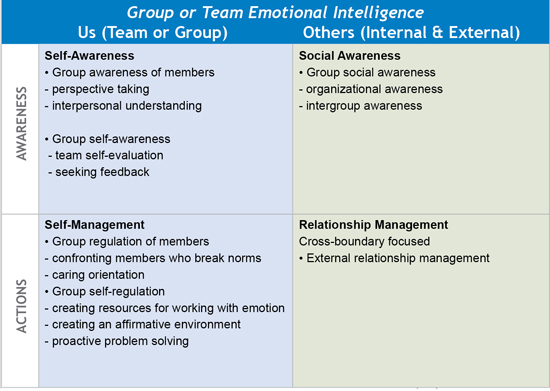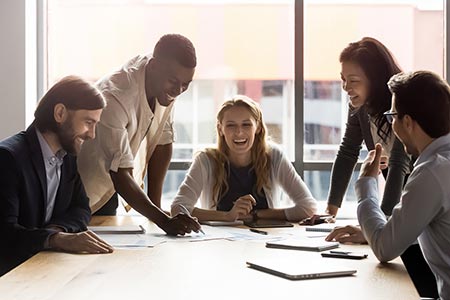 Assessment and Evaluation

Team development programs include surveys and assessments to measure how the team perceives itself on a number of attributes of high-functioning team behaviors and performance outcomes. Depending on the structure of team, appropriate instruments are selected to capture the team's perception of its functioning in some or all of these elements:
Trust
Respect
Commitment to goals
Role clarity
Execution on mission
Accountability
Listening effectiveness
Authenticity in communication within the team
Communication effectiveness with other teams
Willingness to challenge one another
Effectiveness at hearing and understanding differing viewpoints
Collaboration
Sharing of information
Effectiveness in giving and receiving feedback
Effectiveness in managing change
Creativity
Learning culture
Service to its customers
Expression of appreciation and recognition
Engagement
Confidence in team
Meeting effectiveness
Morale
Tension
Frustration, anger
Resentment, blame
Emotional maturity
Team emotional intelligence
Resiliency
Stress and burnout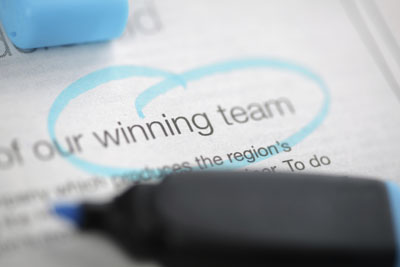 Experiential Learning
Hands-on, experience- based training to facilitate learning, cooperation and growth.
Learning by doing, experiencing integration of new tools and insights in a challenging, fun, safe and supportive environment. Acceleration of cooperation and teamwork. These are some of the key benefits experienced with an experiential learning program.
Tapping physical, mental and emotional energy, team-initiative tasks create metaphors for the attitudes and skills needed to increase performance. Highly trained facilitators "design" the initiatives in a context specific to your organizational goals. Together, the team processes the experience so that relevant learning, transferable to the workplace, occurs.
The resultant increase in on-the-job effectiveness is expressed through improved role and goal clarity, improved productivity and higher morale.
When integrated with Leadership Development, Emotional Intelligence, Team Re-Genesis or Inner Quality Management® tools learning programs, these initiatives become a practice ground for immediate application and integration.
ROPES Course Initiatives
A Ropes Course is intended and constructed to offer opportunities for learning by doing. This learning experience provides a bridge between current behaviors and more desirable performance. Participants are provided with novel and profound opportunities to break through old paradigms and move beyond boundaries.
Many groups and organizations have invested tens of thousands of dollars in "team building events" which proved to be fun, enjoyable and lead to insights into more effective ways of working together. In many cases the event included a Ropes course. And six days or six months later there was no evidence that those insights had been transferred into tangible application.
Our approach is to ensure integration of learning for behavior change that can be measured in improved performance. We know this is a process and not "a team-building event". When we incorporate experiential learning activities and a Ropes Course, it is after we have worked with the group or team and identified opportunities for improvement. Each member has learned and begun practicing tools and techniques for high-functioning team functioning. The Ropes course then provides an opportunity for deeper integration at the individual level, and focused application within team functioning. Rather than being a starting point for team awareness, the Ropes course provides an opportunity to see the results of profound breakthroughs in the application of what they've already been practicing manifested in skillful communication, accelerated collaboration, decision making, trust and creativity.

BENEFITS & APPLICATIONS: for intact or cross-functional teams
Improved team effectivness.
Improved performance.
Heightened cooperation and trust.
Improved morale and productivity.
Enhanced leadership qualities.
Accomplishment and success.
Improved communication effectiveness.
Individual and group empowerment.
Transform limiting thought patterns for measurable results.
Improved self-confidence.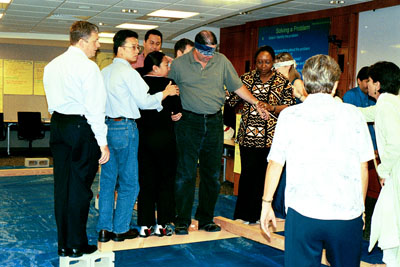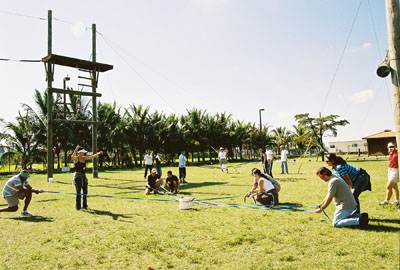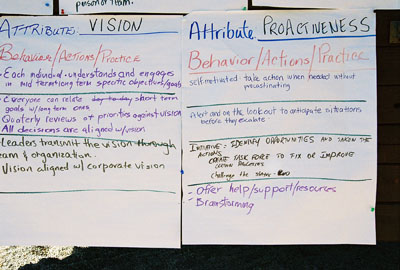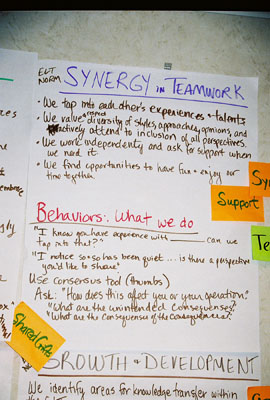 A popular tool for unleashing personal and team potential is the high initiative challenge course. Through overcoming obstacles and experiencing appropriate risk-taking, participants touch a source of confidence and the achievement of a true sense of personal empowerment. Powerful, energizing and completely safe, the strategically designed ropes course environment offers an ideal opportunity for growth.